Double click image to zoom in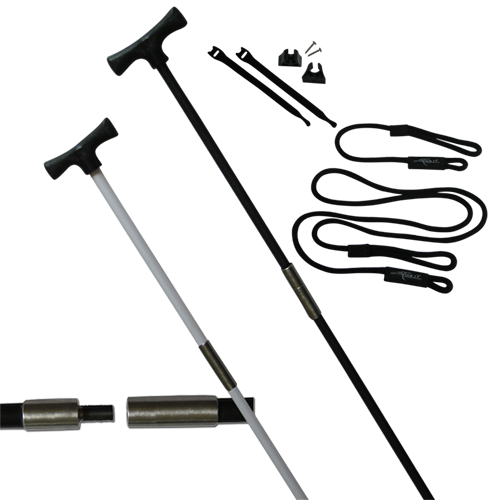 Stick It Anchor Pin System with a 2 Piece 10' Anchor Pin
In stock! Usually ships within 24 hours.
10 foot Stick It Anchor Pin System with Stainless Steel Epoxy Screw Connector
Shippable assembled one-piece system that can be unassembled for easy storage
When you need the strength of a one-piece anchor pin, but want to use it in deeper water, this system is for you. 
This system is used when a customer requires a 12.5 foot Stick It Anchor Pin that can be unassembled for easy storage.   
Our solution is a 10' x ¾" reinforced polyester resin Anchor Pin connected with a Stainless Steel epoxy-screw together ferrule and attached to an ergonomically molded T handle. The screw connector can only be used with the anchor lines that are included in the kit.
Shipments within the United States are shipped 1-3 business days after order has been received.

Orders with pins included ship for $25.95 per box via UPS Ground or FedEx.
Sandbar anchor kits ship for $30.95 per box via UPS Ground or FedEx.
Motor mounts and brakes only ship for $12.95 per box via UPS Ground or FedEx.
Accessories ship for $5.95 per box via USPS first class mail.

Delivery is 1-5 non-holiday business days from date of shipment for the lower 48 states.

***We cannot guarantee a specific delivery date due to carrier delays caused by weather or other circumstances.***

Orders are shipped from North Carolina.

Insurance is included at no extra cost.
Stick It Anchor Pins® has been making high-quality and easy anchoring products since 2006.  The founder developed the concept by adapting an old fishing rod, removing the eyelets, and using a lanyard to anchor his boat.  The original owners built it from that simple idea into a successful brand.  A true "American Dream" story.